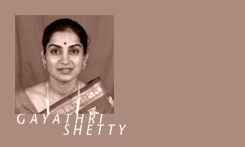 Gayathri Shetty graduated in Architecture from the B. M. S. College of Engineering, Bangalore.
She then went on to work with Venkatramanan and Associates in 1985-86 and also at Mistry Architects from 1986-91, where she was an associate partner. Currently she is partner at Gayathri Namith and assocaiates, which she started in 1992.
Gayathri is a member of the Council of Architecture and the Indian Institute of Architects.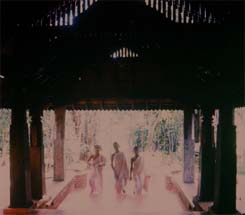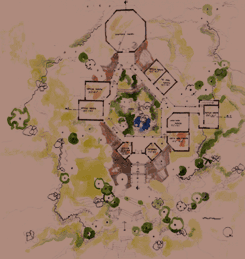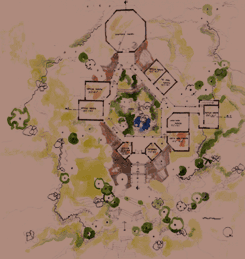 Situated on either banks of River Thunga, on a thickly wooded hillock, the campus consists mainly of 2 temples, A Samskrutha Pathashalam, Residential quarters of the Shankaracharya, the priests and the students and Samadhis of the earlier Shankaracharyas.
The design aimed at creating conditions conducive for the advancement of the intellectual and spiritual faculties, by responding positively to the immediate environment and the rich architectural heritage of the region. The plan that subsequently developed was open in nature letting the surrounding landscape gradually merge with the built form. Many of the rooms were repositioned in order to accommodate trees on the site. The approach through a meandering pathway and entrance on both sides has benches for students. The building has grown along with the landscape with no fixed geometrical pattern. The roofed corridor that links up the office, the classrooms and the assembly hall practically twists and winds along the various trees and rises and falls according to the contours of the site. The columns that support the roof are retrieved from dilapidated traditional houses. The classrooms are segregated for acoustic privacy. Perforated walls built at the floor level facilitate ventilation. The flooring is locally available, of traditional clay tiles. The Prarthana Mandir, octagonal in plan has wooden flooring and niches in the walls. A combination of wire cut brick walls, red oxide flooring, and Mangalore tiled roofs exude a warmth and earthiness requisite. The open spaces between the various blocks are stepped along the contours of the site and act as interesting interaction areas between the pupils and the teachers.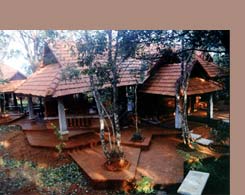 The attempt is to bestow character and ambience appropriate to a place where ancient texts have been deciphered, taught and passed on to succeeding generations keeping alive an age old tradition in the Hindu way of life