Education is one of the five principle activities of the Hecar Foundation, which seeks to focus public awareness on architecture, including heritage conservation and urban issues, through publications, talks, seminars, exhibitions and scholarships.
The Hecar Foundation is proud to announce the launch of its first book, Women In Architecture - 2000 Plus, documenting the dynamic work of women architects in South Asia. Twenty-six committed women architects from India, Pakistan, Bangladesh and Sri Lanka, and a representative each from Singapore and from Australia, speak about the ideas, emotions and beliefs that inspire their work.
Take a look at this book. No architect who wishes to be sensitive to current trends can afford to ignore it !
Women In Architecture 2000 Plus
- Brinda Somaya & Urvashi Mehta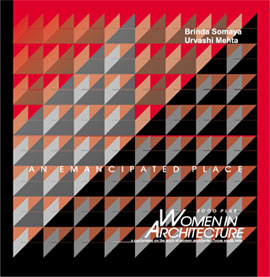 Availability: The Book is currently available.
Not sold in Book stores.
No. of Pages: 160
Hardcover Edition
ISBN 81-7525-194-8

Price: Indian Rs. 1600/ US Dollars 35
*Shipping charges extra.
Special Price of Rupees 1200 for Educational
Institutions and Bulk Orders.

'In dreams begins responsibility.' - W.B. Yeats
Few countries in the world offer architects such varied challenges as those of
South Asia. In the last few decades women architects have been responsible for
an enormous and diverse body of work,
which deserves wider recognition.
From low-income housing to large corporate and public buildings,
from urban planning to the restoration of heritage structures,
their creative solutions have entailed integrating the hi-tech
professional with the 'barefoot architect'.
Women In Architecture offers a cross-section of work from India,
Pakistan, Bangladesh and Sri Lanka, together with some
representation from Singapore and Australia, to demonstrate how
women architects are steering a course between the imperatives of a
global culture and their own countries' rich design traditions.

Click here to read the Foreword by Mrs. Brinda Somaya, Chairperson- Women In Architecture.

Click here to read the Book Review.
SILENT SENTINELS
- Traditional Architecture of Coorg 2005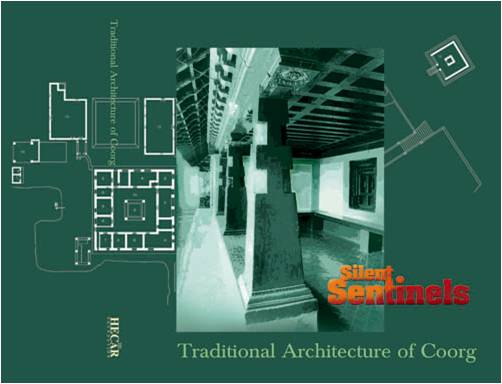 The traditional buildings of Coorg, or Kodagu, are among the most striking cultural expressions of this distinctive region of South India. For centuries the belief systems, social bonds, and family rituals associated with these distinctive built forms ensured their preservation and the continuity of their place in the life of the community. These elaborate, handsomely built mud, stone, and timber structures served as physical testaments to the prosperity and well-being of Kodava families. This book has enjoyed wide academic circulation and is available in several bookshops in India and at reputed libraries worldwide. ISBN: 81-7525-679-6

THE CATHEDRAL SCHOOL PORTFOLIO
- Release Date: 27-Oct-2010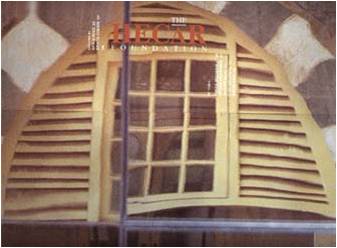 Conceiced by Gita Simoes '59 and Brinda Somaya '64 for The HECAR Foundation on celebrating completion of 150 years of Excellence of "The Cathedral & John Connon School"

VANISHING HOMES OF INDIA
- Release Date: Jan-2014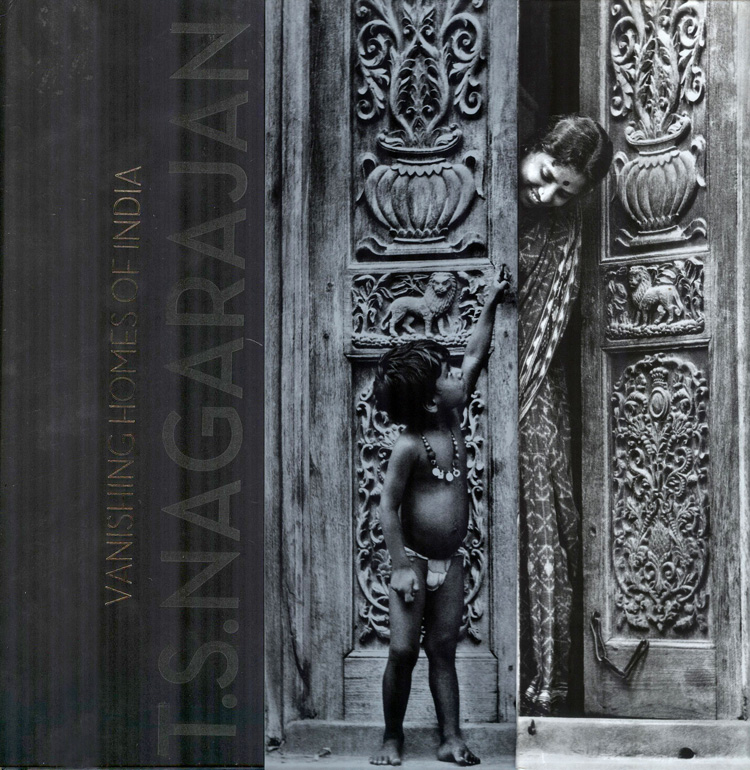 By T.S. NAGARAJAN

BRINDA SOMAYA
Works & Continuities
- Release Date: 15-Feb-2018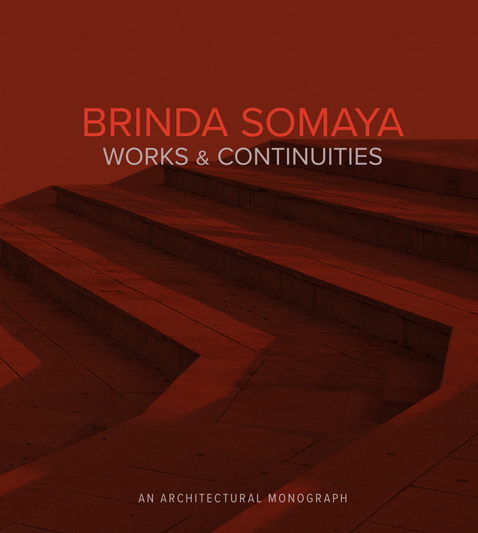 This volume is a comprehensive monograph chronicling the personal and professional journey of the Indian architect and urban conservationist Brinda Somaya, from 1975 to the present. Belonging to the 'Bridge Generation', her work transcends stylistic vocabulary and draws its inspiration from Indian culture, the landscape of the subcontinent and principles of sustainable design and intervention.

Nandini Somaya Sampat, architect, interior designer and Director at SNK Consultants, is involved in all aspects of the design, coordination and execution of projects.
Ruturaj Parikh, is a partner at Matter, an architecture and content firm based in Goa. Former Director of the Charles Correa Foundation, he works on architectural and curatorial projects.

Hardcover | 492 pages
ISBN: 978-93-85360-23-7 (Mapin)
PRICE: Rs.3,950.00 | $70.00 | £55.00
Click Here to order
SINDHNAMAH
NANDITA BHAVNANI - GITA SIMOES
- Release Date: August-2018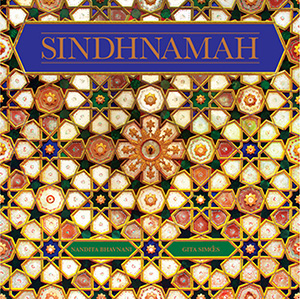 A landmark publication for the Sindhi community, Sindhnamah is a large-format illustrated book about the rich cultural heritage and history of Sindh and the Sindhi people.
Written in an engaging style, Sindhnamah showcases the beautiful treasures of their original homeland: its landscapes, waterways and wildlife; its arts and crafts, textiles and jewellery; its splendid architectural wealth; its music and cuisine; the many faces of its religions; and its colourful history and folklore. It also celebrates the compassionate spirit of humanism that is such a significant aspect of Sindhi culture.
Widely researched and imaginatively designed with a variety of stunning images – colonial-period paintings, lithographs and maps; Mughal-era miniature paintings and illustrated manuscripts; historic photographs from family albums; and vivid pictures of contemporary Sindh – Sindhnamah is the first book to extensively showcase the many-splendoured facets of Sindh and the Sindhi people.
Sindhnamah is a unique gateway to Sindhi culture, and also a wonderful opportunity for Sindhis and others, whether in India, Pakistan or across the globe, to rediscover their magnificent heritage and history.

ABOUT THE CREATORS OF THE BOOKS

Nandita Bhavnani has done extensive research on Sindhi culture and history since 1997, and has also travelled widely across Sindh. She is the author of The Making of Exile: Sindhi Hindus and the Partition of India and I Will & I Can: The Story of Jai Hind College.

Gita Simœ˜s (1942-2016) was born in Karachi. She studied art at the Minneapolis School of Art and Design, and subsequently worked with the Taj group of hotels as art director for 14 years. She later freelanced for 30 years, with an emphasis on book design.

Hardcover | 304 pages
ISBN: 978-81-928190-2-0
PRICE: Rs.3,500.00
Click Here to order

How to order your copy

Send us your complet details Name,Shipping Address, Tel, Email, No. of copies .


Select your preferred mode of shipping. (Shipping charges will vary depending on the location & mode)


Total cost of the book including shipping charges will be intimated to you by e-mail.


You may then send the draft in Indian Rupees or US dollars favouring "The Hecar Foundation" at the address mentioned below.


On receipt of payment, the Book will be delivered to the specified address.

To order your copy.
Click Here


Please send your orders/payments to:
The Hecar Foundation
c/o Somaya & Kalappa Consultants Pvt. Ltd.
Ground Floor, North Wing,
Udyog Bhavan, 29,
Walchand Hirachand Marg,
Ballard Estate, Mumbai-400001

Tel: +91-22-43001234
Fax: +91-22-40021852
E-mail: info@thehecarfoundation.org

Terms and Conditions:

The book/s shall be shipped only once the complete payment has been received.


Payments to be made in favour of "The Hecar Foundation".


Payment to be made only by Demand Draft or Dollar Draft in Indian Currency or US Dollars.


For Educational Institutions and for bulk orders please email the details & requirements.


All shipment shall be couriered and please allow 2-3 weeks for delivery.

For any queries please e-mail: info@thehecarfoundation.org