Bachelor of Architecture University of Bombay, 1971,Post Graudation in Industrial Design,I.I.T. Powai Bombay, 1974.
Visiting Lecturer, in Academy of Architecture from 1981 to 1989 and from 1994 to date.
Visiting Lecturer, Sir J.J College of Architecture, from 1978 to 1980. Visiting Lecturer,Rizvi College of Architecture, from 1997 to date.
National competition for a four star Hotel at Puri, Orissa. First prize and job awarded, 1985.
Invited competition for Educational complex for S.M. Joshi Socialist Foundation at Pune.
First prize and job awarded, 1994.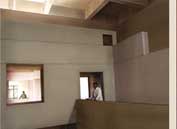 S.M Joshi Socialist Foundation is engaged in promoting socialist and secular activities. It conducts training programmes for social activists in Maharashtra.
The Academy is proposed to be used by other like minded organisations as well, for their activities like workshops, study circles, seminars etc. The complex includes Class rooms, Seminar rooms, Library, Documentation Centre and Hostel accommodation.
The builtform creates open and semi open spaces conducive to informal interactions of social activists and researchers.