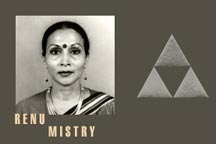 Renu Mistry graduated from I.I.T. Kharagpur in 1971 with a B.Arch (Hons) degree. She was a brilliant student, standing first in the Architectural Department throughout. After graduation she worked in Bombay with M/S. Talati & Shroff and with M/S. Premnath & Associates. For four years she and her husband were with the National Iranian Oil Company, when she worked mainly on Hospital Projects.

On their return from Iran in 1980 Renu & Sharukh Mistry launched "Mistry Architects", a sensitive architectural practice in Bangalore. Even though they share the practice and a lot of ideals and principles Renu and Sharukh work independently on projects. Besides several residential bungalows and commercial interiors, Renu Mistry has worked on group housing, interesting conservation projects and several schools.

Besides architecture, Renu Mistry is a classical dancer (Bharat Natyam) and has also participated in contemporary Dance and Kalari workshops. She also spends her time reading, travelling, trekking, scuba diving and in community service.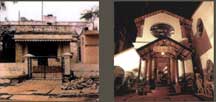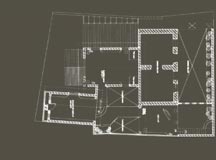 | | |
| --- | --- |
| No.42 Castle Street is a 90 year old building that belongs to a family who approached the architects help them find a builder who would 'jointly develop' the property into a multi-storeyed commercial complex. Space was developed and rented out to 'SIGRI', a Hyderabadi restaurant and 'BRAHMA', an artifact store. Visual connections between the two were maintained, thereby creating business opportunities for each other. | |

Spaces were opened up removing existing doors and windows. The wood from the old doors and windows was used for wooden trellis The flooring is red oxide, internal walls with the lime plaster painted white, and walls along the site boundaries finger plastered and painted ochre with white niches edged with oxford blue china mosaic. Courtyards secured with grills on the ceiling and glass insert mangalore tiles provide ample daylight.

The pogramme was implemented using new materials and technology keeping in mind the strong character and selecting the right colours and textures.
Harmonious blending of openings like rectangular openings, arched openings, circular openings, gables and fanlights are one of the binding features of the building.

The satisfaction and excitement was to be able to enthuse a new life to this structure to satisfy contemporary needs and yet provide a historical continuum by preserving a heritage.