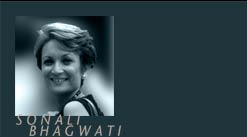 Sonali Bhagwati did her B.Arch from the Centre for Environmental Planning and Technology (C.E.P.T), Ahmedabad in 1986 and is the Executive Member, Conservation Society, Delhi.
She is involved in making audiovisual programs of historical areas within an ever-expanding urban milieu and is on the Committee of Experts, constituted by the Ministry of Environment, Government of India, for appraisal of development of projects in eco-sensitive areas.

In 1983, she trained with Architect Bernard Kohn, as recipient of scholarship from Institute Francaise D'Architecture, worked on projects such as cooperative Housing and Maison du Culture.
She did her Research Thesis - An inquiry into Urban Metamorphosis in 1984-85 and a study of the sociological and Urban evolution of an inner city area. She was a consulting Editor for Habitat Section of The Times of India news publication in 1985-86 and a partner in ATELIER 2001, New Delhi, since 1985 She has been a partner in SPAZZIO, New Delhi, since 1993.
Client: SmithKline Beecham Consumer Healthcare.
Location: DLF Plaza Tower, Gurgaon
Project Type: Interior - Corporate
Area of Project: 52,000 sq. ft.
Cost of Project: Rs.1,800.00 per sq.ft.
Year of Completion: 1999.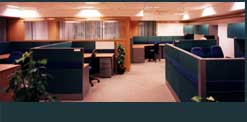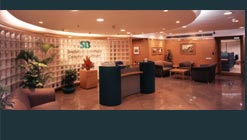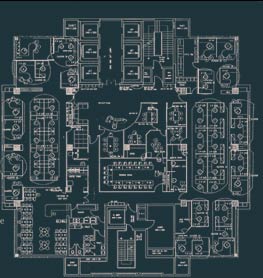 Since the total area is divided into four equal floors, it was decided to place the reception on one of the middle levels in order to facilitate vertical circulation.

Respecting the background of a conservative British Company, the working areas are configured with straight lines giving maximum space efficiency. This is effectively juxtaposed with the fluidity of a glass block wall on each floor. That not only becomes a defining but also an identifying element for the company.

An open office concept is followed providing cabins for only the M.D. and other directors. All other senior management forms a part of the open working system. Common reprographics and coffee points on each floor make the departments relatively independent.

Usage of systems furniture ensures not only consistency in quality but also facilitates an extremely efficient cable management that is crucial to the success of this modern enterprise.

Centrally placed discussion and meeting rooms provide the required audio privacy, while retaining the visual connection by use of extensive glazing.

The ethos of the corporation is manifest by using the SBCH colours wherever possible.

The issue of noise control is effectively addressed by acoustic ceiling, carpet flooring and fabric panels in addition to other measures that provide the required sound attenuation against a quiet and subdued background.